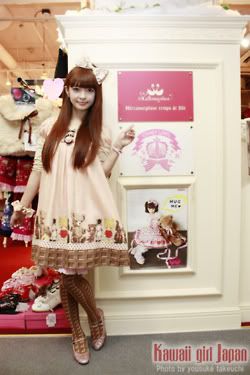 Misako Aoki
Please forgive the pun in the tittle, but in this post I am going to talk about my hair heroes :)
My biggest hair inspiration at the moment is Misako Aoki, because her hair is the same length as my current goal hair length (although I very much suspect I will just keep growing my hair after that to see how long it will grow).
I very much like her fringe, and I like the way she doesn't often wear wigs, which are often seen as being an essential part of the modern Lolita's wardrobe.
I personally don't like wearing wigs, so it's nice to see a famous Lolita using her real hair too.
In this video Misako talks about a photography studio.
Another one of my hair idols is the wonderful Torin Paige, who was kind enough to be one of my very first Friday features way back in
November 2010!
She does such amazing things with her hair, someday I hope to be half as good!
Another youtube hair guru that I admire a lot is Ladollyvita33.
Her hair is just slightly longer than mine so I am working my way through her videos trying out a lot of the styles she has put up :)