Yesterday when I visited my mam, she gave me a package that had arrived for me from Evestus in Estonia (go listen to his music with the handy dandy player on my side bar over there!)
In it was a fabulous poster (this is so going on the wall in my hallway), a new supply of stickers to whack up all over the place to help promote,
A pretty cool cardboard figure, and a
TNS
patch (I have to decide which jacket to attach it to so I can be a giant walking flyer! :D ).
***
Today I have been mostly painting and sewing.
I plan on making something similar to the outfit in the painting I did earlier at some point :)
Here's a preview of my latest sewing project:
A skirt with a ruffle and a bow, not quite finished yet, hopefully tomorrow I'll finish it.
***
Day 11: A picture of the perfect plant or tree.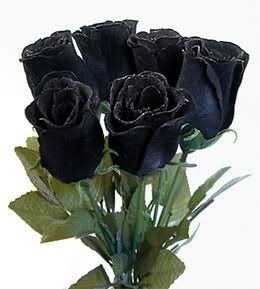 Black Roses, yes I guess I am a bit of a cliché goth sometimes!